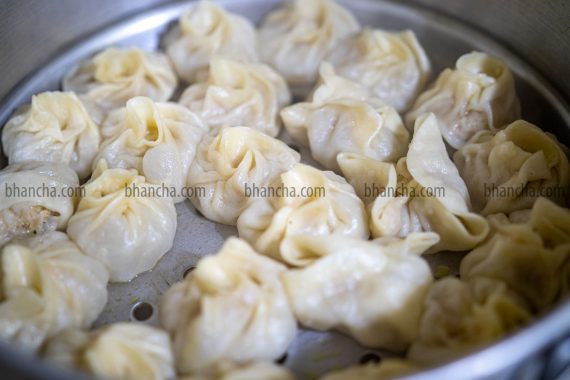 Chicken momos are a popular recipe in household terms in Nepal. Chicken momos are also one of the different dishes made during gatherings at home. The ease of preparing and serving several people has made chicken momos popular in the past couple of years.
People prefer chicken momos with varieties of dippings. During the cold days, generally, people go for a bowl of soup. Typically, people prefer regular dippings. You can however, choose just to enjoy it without dippings too.
Outside the home, people often prefer buff momos. Also, those who refrain from eating red meat and buff choose chicken momo.
Namely, momo is a Nepali version of Tibetan dumplings. Inevitably, the people of Nepal have made changes to the ingredients and techniques to wrap. Still, the primary way of cooking is steaming. Throughout the world, several versions of momos with their local names are famous and loved.
Chicken momo and Beer
Chicken momos and beer or chilled cold drinks are perfect combination for snacks or a get together. Chicken momo masala is second important item that makes perfect momo. A perfect plate of momos according to us is that, which simply dissolves in your mouth leaving rich taste of ground chicken and the spices used.
Nepali Chicken momo Ingredients
Chicken Filling
500 gms of chicken keema (ground chicken)
200 gms of finely chopped onion
100 gms of finely chopped spring onion or 100gms of finely chopped shallot (chyappi)
50gms of finely chopped coriander leaves
Three tablespoons of garlic ginger paste
One tablespoon of chilly powder
Two tablespoons cumin powder
Two tablespoons coriander powder
Salt as per taste
Turmeric as required
Three tablespoons of regular butter or oil (mustard oil preferred as per Nepali recipe)
Three tablespoons of momo masala*
*If you have a momo masala, which you get from the market is even better. You do not have to add cumin and coriander powder.
Dough
300 gms of all-purpose flour
water
One tablespoon of oil/butter
You can buy wrappers at grocery stores and do not have to make the dough for wrappers.
Nepali Chicken momo Preparation
Chicken Keema (Minced chicken)
Mix ground chicken, finely chopped onion, spring onion, coriander leaves, ginger garlic paste, chilly powder, cumin powder, coriander powder, salt and grease (butter or oil) until mixed properly.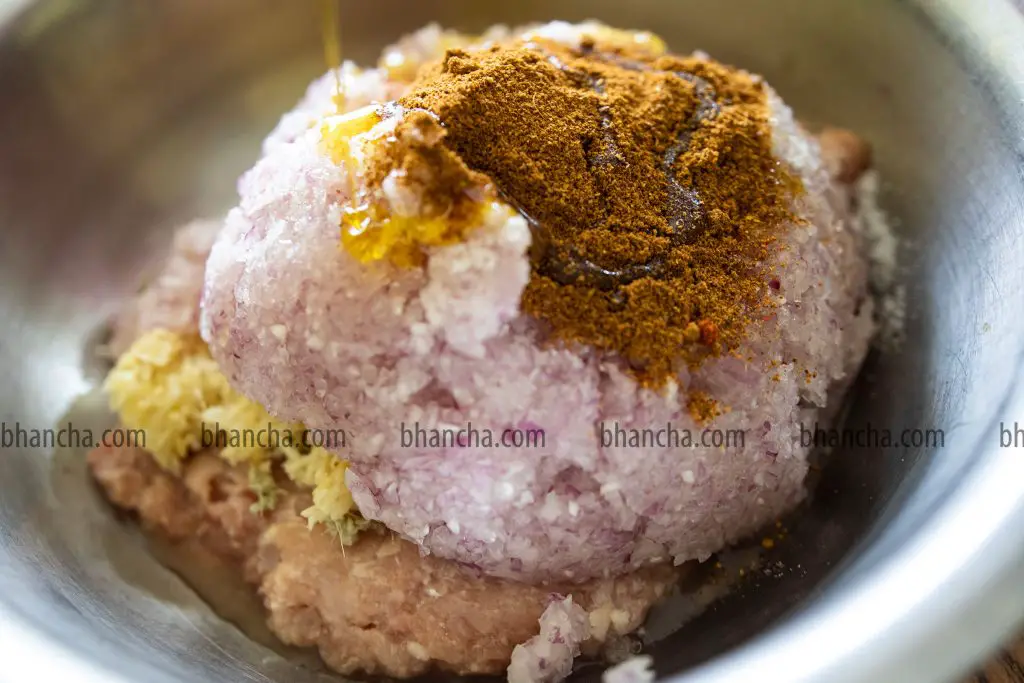 When mixed, leave it for 30 mins so the ingredients mix well for the flavor.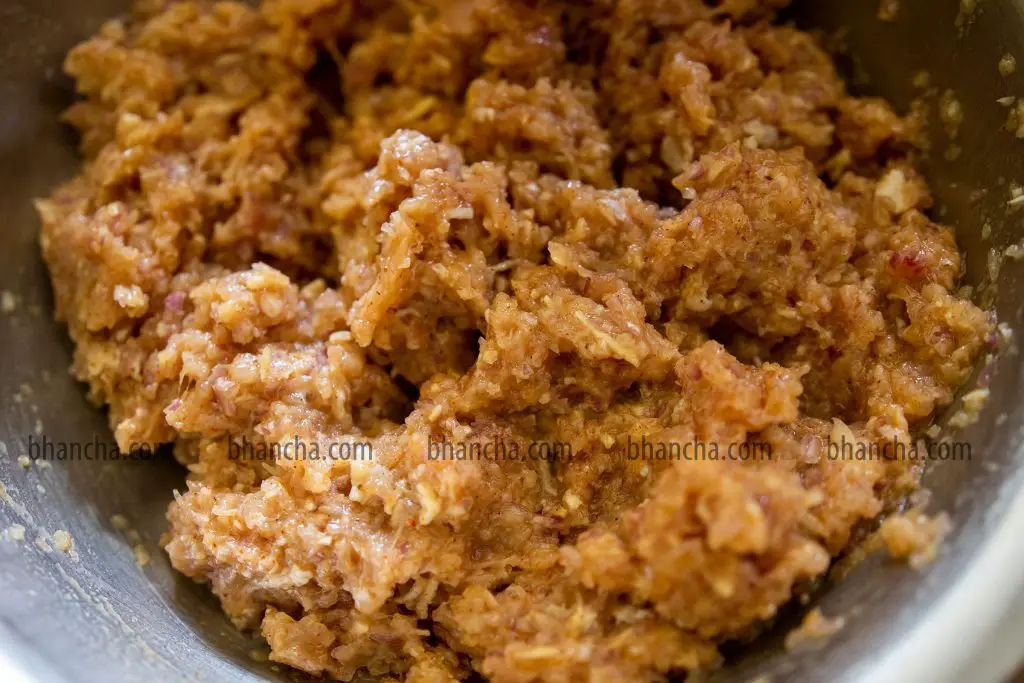 Dough
Mix water and butter and the flour.
Gently add water so the dough does not get too sticky and soft.
Knead thoroughly until it stops sticking on your hands.
Nepali Chicken momo cooking steps
Boil water on a steam pot. Use medium flame so when you have momos fillings ready to steam, you don't have to wait for a long time. Add one or two bay leaves in the water for the aroma.
Take a portion of kneaded dough and flatten with a pin. Try to make it thin so that the real taste of momo breaks into your mouth when you chew momo. But do not make it too thin so the wrapper breaks while holding the chicken filling.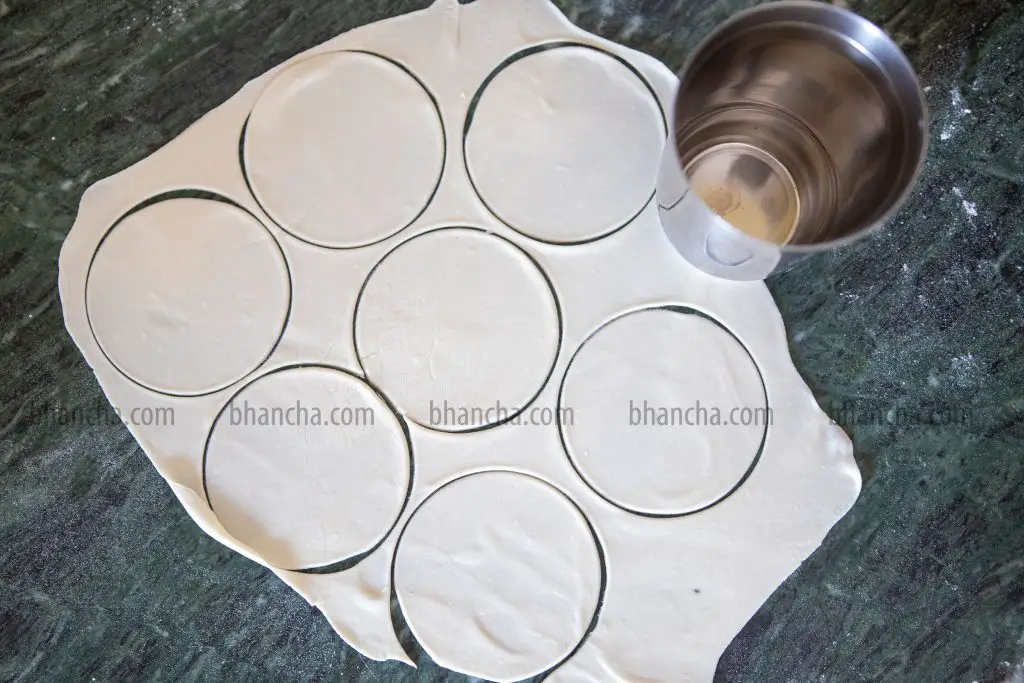 We use a steel glass to cut the wrappers uniformly. You can use sharp edged circular tool to cut uniform sized wrapper.
Fill the chicken filling into the wrapper and fold it the way you like it.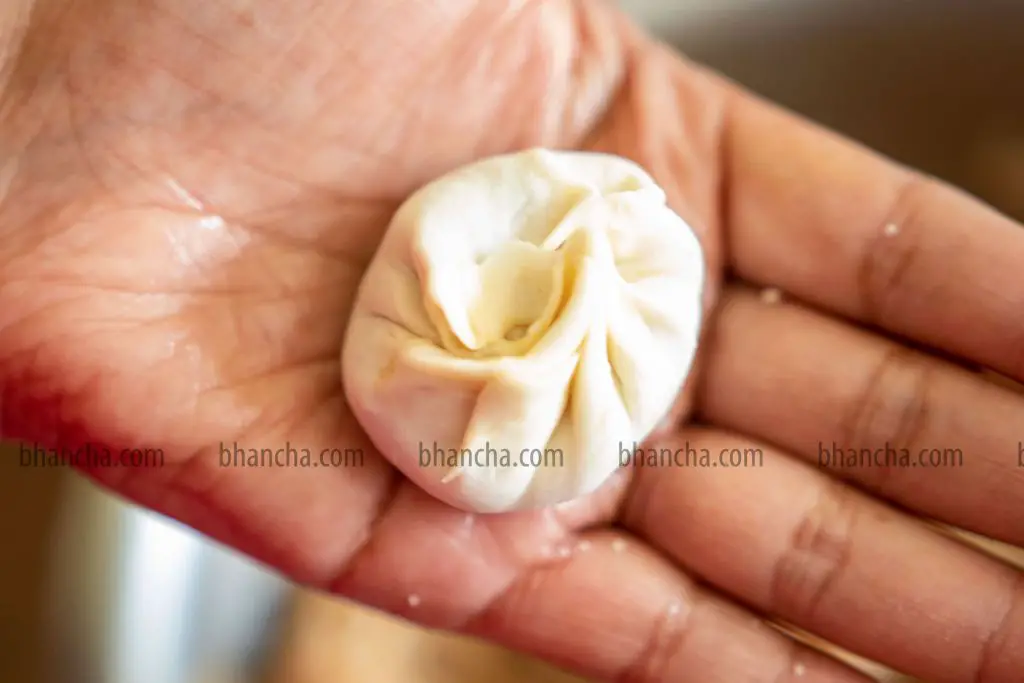 Place the momos into the steamer.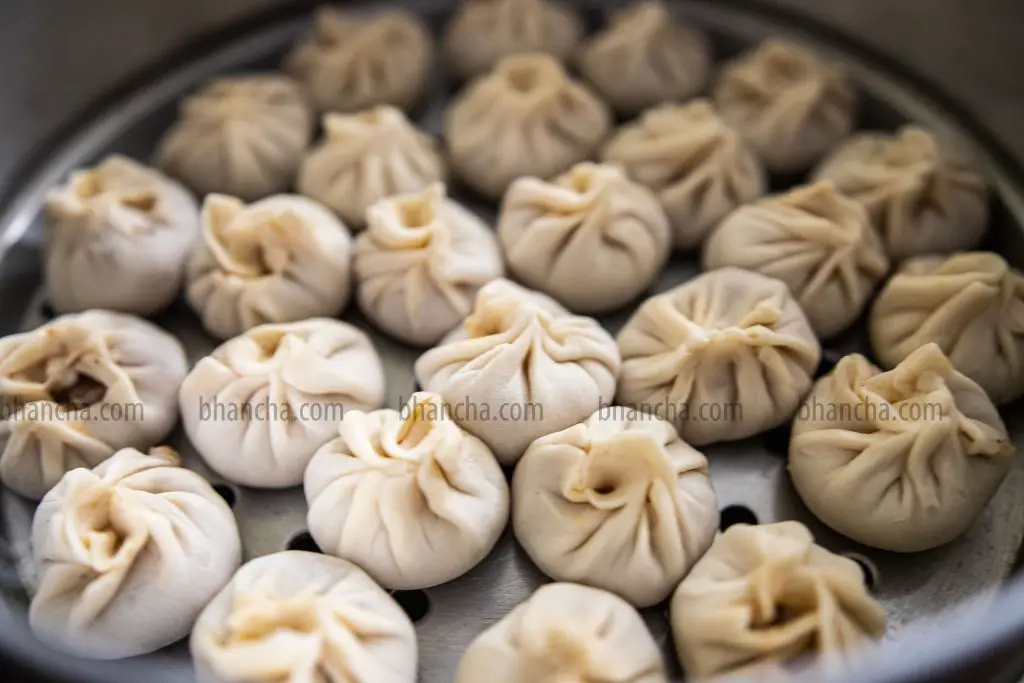 Steam it for 20-25 minutes in. Once cooked you can see the wrapper is more translucent.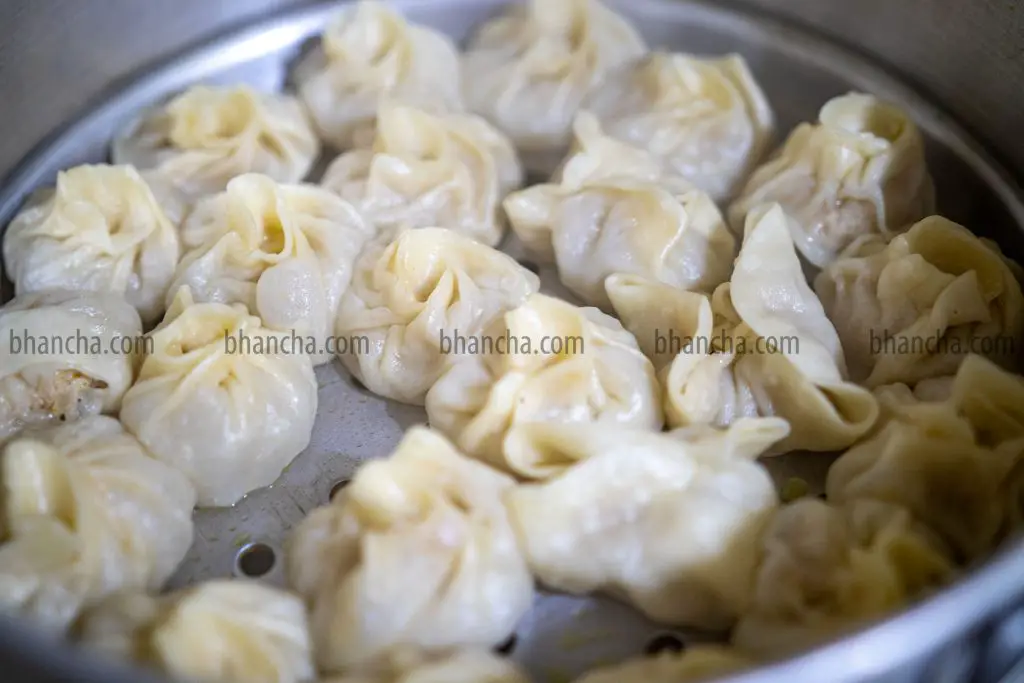 Hot steamy momos are ready to serve.